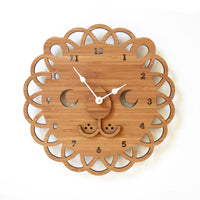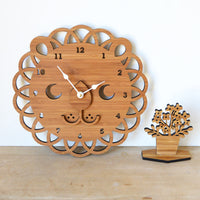 Lion Face Clock 11 inches
This friendly lion clock will make a perfect wall adornment in nursery or kids room. Measuring 11 inches in diameter this clock is made of eco-friendly 3 ply bamboo. Featuring all 12 numbers with white and minute hands for easy telling time.
Features: 
• Size: 11 inches in diameter (0.5" off the wall) 
• Requires one AA to operate (not included.)
• White minute and hour hands. 
• No second hand
• Using silent clock motor
• Ships well protected
Easy return
If you are not 100% satisfied, let us know.
We make the return easy for you.
Small is big
I work with small mom & pop suppliers, small businesses and individuals who work within the US. When you get an item from my shop, you are also supporting a band of small businesses.
Thank you for your support.